Meet the Aussie Legends Rescuing and Rehoming Our National Icons
They were the images that shocked the world; the charred remains of the nation's pristine wilderness and the desperation facing its native inhabitants. When the bushfires hit Australia last December, locals were wholly unprepared for the carnage that ensued, but it was nothing compared with what our wildlife would suffer. Nearly three billion animals were killed or displaced by the wildfires of 2019 and 2020, with experts calling it "one of the worst wildlife disasters in modern history". But amid the tragedy, there was hope, and on the South Australian hotspot of Kangaroo Island, it came in the form of Sam and Dana Mitchell.
You'll also like:
EXCLUSIVE: The Mystic Wisdom of Matthew McConaughey
Matthew McConaughey and Wild Turkey Team up with Unyoked to Build Cabin Down Under
Movember's $3.5 Million Challenge to Battle the Isolation Blues
Owners of the Kangaroo Island Wildlife Park, the Mitchells were tasked with the impossible feat of caring for badly injured and displaced animals. As one of the hardest-hit areas in the country, Kangaroo Island was devastated by the raging fires, leaving its bustling native wildlife population with nowhere to turn.
"Dana and I had very different roles, so when the bushfires came along, neither of us were prepared for what was about to happen," Sam tells Man of Many. "Dana spent much of her time with the orphaned animals; there were just so many critical care patients. To see a baby koala come in, to put so much time into raising them and sometimes they didn't make it, it's hard."
But through sheer grit and determination, the Mitchells pushed on. In an effort the preserve Australia's cultural icon, they worked day and night to rehabilitate any animal that had been brought in. Initial forecasts suggested that only 12.5 per cent of those injured animals would survive, but in the months that have passed, we've seen that number dramatically rise.
"We've just finalised some of the paperwork now, and we've saved close to 650 koalas," Sam says. "At the start, there were so many in such bad condition they simply didn't make it and every day we could get a koala out there was a great result. But since then, we've seen 250 go out, and there's more here that will be heading out soon. You're looking at a 40 per cent success rate."
It wasn't just Sam and Dana working alone, either. The entire community of Kangaroo Island got behind the initiative, bringing in injured animals to be rescued or rehabilitated. "We had local families going out every single day and rescuing animals," Dana says. "We were blown away by the support from around the community and the world. People who were here on holidays just parked up to help out, it was amazing."
Now, the pair are being recognised for their achievements on a global scale. As part of the ongoing Wild Turkey With Thanks project, creative director Matthew McConaughey has singled Sam and Dana out as inspiring Aussies, naming them as one of three 'Local Legends'.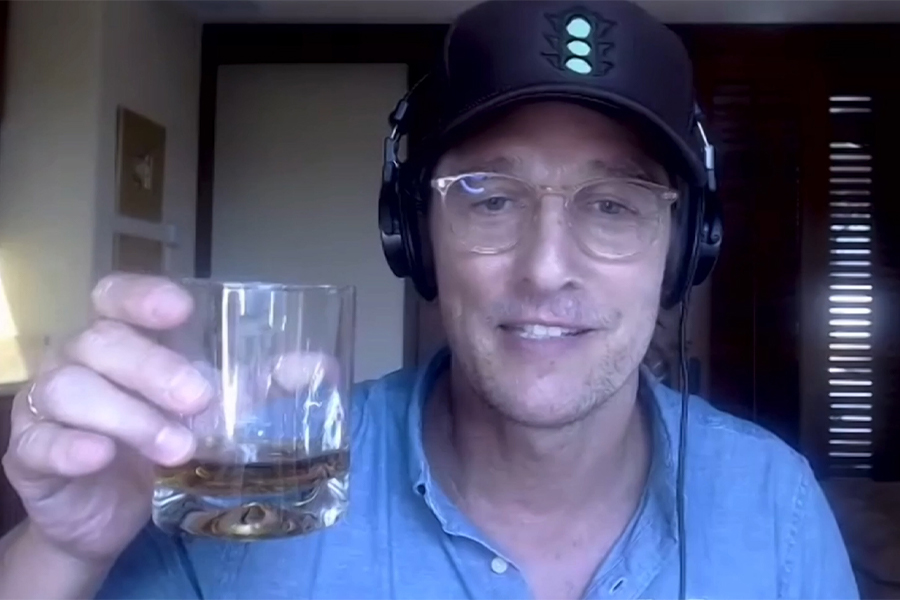 "When you go through something like they've gone through and you go through hardships, you kind of sober up with your view of the world," McConaughey tells Man of Many. "And so we just had a good chat as humans. Me, as a fellow man and someone who gives a damn and they were happy that Wild Turkey and I were there to shine a light on them and what they did."
The new initiative not only acknowledges the Mitchells' hard work but also shines a light on the region's slowly returning tourism sector.
"We were so proud and honoured to be chosen as part of the Local Legends initiative," Dana says. "Obviously, it was a massive job that came from the bushfires, not just here on Kangaroo Island, but in a lot of other fire-affected areas across Australia. To see Matthew McConaughey out there shining a light on local endeavours makes you realise what a global movement this has been."
Now things are slowly back up and running, the Mitchells are keeping their focus firmly on the future. "It's amazing to see how well the bush has bounced, but at the same time, it's awe-inspiring to see the burnt landscape in its entirety," Dana says. "We are going to keep bringing attention towards Kangaroo Island koalas because they are extremely important. As a completely disease-free population that isn't affected by illnesses on the mainland, these koalas are so important to the natural ecosystem. The Local Legends initiative is all about trying to support to travel and get people back to wilderness, there's no better place for that than Kangaroo Island."
The Kangaroo Island Wildlife Park is open now and gearing up for a big Summer. You can find out more about the Wild Turkey Local Legends initiative below.
You'll also like:
EXCLUSIVE: The Mystic Wisdom of Matthew McConaughey
Matthew McConaughey and Wild Turkey Team up with Unyoked to Build Cabin Down Under
Movember's $3.5 Million Challenge to Battle the Isolation Blues